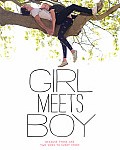 In Girl Meets Boy: Because There Are Two Sides to Every Story, twelve young adult writers team up to write six stories from two different points of view: his and hers. This collection, edited by Kelly Milner Halls, is funny and smart and raw in the way it looks at teens in love.
Joseph Bruchac writes of a Native American boy who is short for his age and learning martial arts to defend himself against the bigger guys at school. He would like to get together with the tall star of the girls basketball team, but he's sure she would never go for him. Cynthia Leitich Smith writes the other side of the story, of a girl who's not very girly and who intimidates the boys around her. In this story, as in all the other, the boys and girls face their insecurities, their fears, and sometimes even defy the wishes of their parents in the pursuit of love.
Other writers in the collection include Chris Crutcher and Kelly Milner Halls, James Howe and Ellen Wittlinger, Terry Davis and Rebecca Fjelland Davis, Terry Trueman and Rita Williams-Garcia, and Randy Powel and Sara Ryan
Issues that these teens deal with include being attracted to someone of a different race, someone of the same sex, and someone of a different religion. Their moral backgrounds don't always match. But they all share one thing in common: they are taking a chance on someone in the hopes of finding love. The writing is fresh and thoughtful and provocative. Girl Meets Boy is fun to read. It's also interesting to see what each author has to say about the inspiration for his or her character. I recommend it for ages 15 and up.
The publisher provided me with a copy of this book to review.
Save