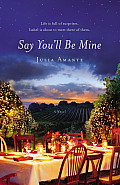 Isabel has always done what she was expected to do. She helped her parents run their winery in California, and she took care of them both before they died. She let her ex-husband Nick stay on at the winery even after their divorce, because she knew he needed stability in his life. Now she's on the cusp of selling the winery and free to do whatever she wants for the first time in her life.
Then news reaches Isabel of her cousin's death in Argentina, and she learns Brenda has named her guardian of her three children. She sets out to handle the situation like any other business transaction she has encountered. Only this time, she's not familiar with the rules and the children don't respond the way business associates would. Isabel must decide if accepting her cousin's wishes is the right thing to do, or if it would be better for everyone involved if she finds a more suitable guardian. Complicating matters is that Nick decides he wants to be part of her future.
Say You'll Be Mine by Julia Amante takes a look at what happens to a woman in her 40s when life throws her a curve ball. Julia herself grew up in Argentina, and part of her heart still belongs there. She's always been strong, which means that while she's good at negotiating, she doesn't often let down her guard even to herself. Consequently, she's lost the ability to even know what she truly wants. She loves her cousin's children, but she's not sure she knows how to be a mother to them. She must sort out all of her conflicting emotions and make decisions that will affect the rest of her life. The question is, can she do that before she takes steps that will limit her options.
Say You'll Be Mine is full of complicated, flawed characters who are trying to do the right thing for themselves and the people around them. They don't always know the right path to take, which means they make decisions that may make them unlikeable for some time. In the end, it's their ability to concede past mistakes that helps them move into the future.
The publisher provided me with a copy of this book to review.