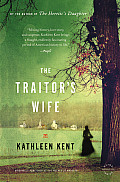 Martha Allen is 22 and well past the age when her family started to think of marriage for her. But her hard disposition has attracted no man who would marry her, and so she is sent to live with her cousin Patience and help with the household while Patience goes through a difficult pregnancy.
Lie is hard in rural Massachusetts during the late 1600s, and Martha is a big help. She finds herself attracted to Thomas, an indentured man who helps to run the farm. There are whisperings that Thomas has a secret to hide, that he was somehow involved in Cromwell's execution of England's king years before. Whatever happened in his past, it now threatens to shatter the peaceful existence that has settled over the household.
The Traitor's Wife by Kathleen Kent tells the beginning of the story of Martha Allen and Thomas Carrier, the parents of Sarah Carrier in The Heretic's Daughter. In this prequel, Kent once again brings this time in the early years of the Massachusetts colony alive. There were fears of violent natives on the prowl, the plague, and mischief-makers from England. This new frontier was a hard place to live, and despite the separation of colonists they depended on each other to stay alive.
In The Heretic's Daughter, Sarah struggles to understand her mother and the hard exterior she shows to the world. Here, Martha is revealed as someone who has a backbone of steel, but it's a rigidness born of necessity as much as personality. The same goes for Thomas, who is reluctant to involve anyone else in protecting him from his past, but is eager to begin anew in this raw country.
Through Kent's research and masterful storytelling, she has created another fascinating tale that draws on family stories of her very real ancestors. I recommend The Traitor's Wife for anyone who loves historical fiction.
The publisher provided me with a copy of this book to review.