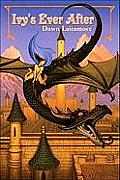 Take an unconventional princess, a shy and timid dragon, an evil prince as would-be rescuer, and a kingdom that sorely needs a dash of hope. Mix in an absent-minded, wayward fairy godmother, a few trolls, and a cute stable boy. Bring all the ingredients together in a tale called Ivy's Ever After by Dawn Lairamore as a winning recipe for a novel that girls aged 8 to 12 will love.
Ivy's mother died soon after Ivy was born, and her father has been a wisp of his former self since. No one knows where Ivy's fairy godmother disappeared to after the tragedy, and Ivy herself has been raised as a free spirit, with few constraints and lacking training as a proper princess.
All that is set to change as Ivy's 14th birthday approaches. According to the terms of an ancient pact between humans and dragons, Ivy must go inside a tower guarded by a dragon until a worthy prince rescues her by slaying the dragon. Handsome but arrogant Prince Romil arrives early with the hope of being the one to win Ivy's hand in marriage and become ruler of her small kingdom.
Ivy feels she must comply until she discovers Romil's evil plot. Defying all conventions, she strikes up an alliance with her guard dragon, Eldridge, and the two set about rescuing her kingdom.
Ivy's Ever After provides lots of fairy tale fun that will delight both girls and their moms while still giving them something to talk about. Issues to discuss include finding your strengths even when they go against the expectations of others, looking for innovative solutions to change something that doesn't seem right, judging people on their actions instead of their appearance, and more.
The author provided me with a copy of this book for review.