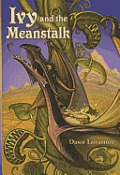 Ivy and Eldridge have become fast friends after their adventures in Ivy's Ever After by Dawn Lairamore. Now they're trying to enjoy themselves at Drusilla's wedding when a giant beanstalk with vicious teeth for pods grows into the clouds, taking Drusilla's pet goat with it.
In Ivy and the Meanstalk, the two set off to rescue Toadstool, only to discover a giantess who is intent on recovering her golden harp, stolen by Jack and whisked away generations ago. Largessa threatens to destroy the kingdom of Ardendale if Ivy and Eldridge don't return the harp within a week.
This new story takes the princess and her friendly dragon on a journey across the sea to Jacktopia, where a big-headed Jack set himself up as ruler long ago. Every king in the land since then is intent on increasing his kingdom's wealth and showing off an abundance of gold.
Ivy has her work cut out for her, but she's got the assistance of Eldridge, Owen, and One-Oh-Three, an overprotected prince who wants to have a little more freedom. They work together to win what Ivy needs and what One-Oh-Three hopes for.
Ivy and the Meanstalk continues the fun from the first book with author Lairamore imagining the aftermath of Jack and Beanstalk. Instead of the hero he portrayed himself as, Jack is revealed as a less-than-ethical character who thought only of himself. Mother-daughter book clubs with girls aged 8 to 12 will enjoy reading it as well as discussing some of the issues touched on, including how historical events may be viewed differently by various people affected, the ethics of stealing something to avert a tragedy, and the wisdom of seeking revenge on someone who had made you mad.
The author provided me with a copy of this book for review.