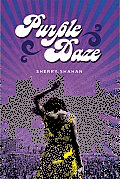 In 1965 the U.S. was committing more troops to Vietnam, Malcolm X was assassinated, civil rights demonstrators marched from Selma to Montgomery, Alabama, and riots broke out in Los Angeles. Sex, drugs and rock and roll was the mantra of the day. In Purple Daze by Sherry Shahan, six high school friends navigate these unsettling times along with other challenges of growing up, like having alcoholic parents, deciding whether or not to have sex with a boyfriend, trying to get through school, and getting drafted.
The story is told in journal entries, verse, headline news clips and letters that give us insights into the inner lives of each of the characters, as well as a feeling for the backdrop of historical events of the time. This format is powerful and compelling, getting to the heart of all the issues with a minimum of words. As the year progresses and the characters are more and more affected by events within their own group of friends and in the country, each of them struggles to determine how they will respond and what they truly believe in.
Purple Daze is not only a good way to learn more about this time in our country's history, it's also a moving look at how the lives of individuals were affected. While many of the issues were particular to the era, others are more universal for teens at all times. I recommend it for ages 15 and up.
Publisher Running Press Teens provided me with a copy of this book for review.