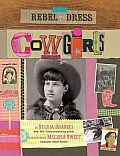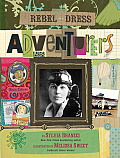 The Rebel in a Dress series by Sylvia Branzei succeeds in showcasing women who have broken the boundaries of their times to achieve what they wanted. Illustrations by Melissa Sweet and historic photographs make each woman featured come alive in just a few pages.
I read two titles in the series: one that focuses on Cowgirls and the other about Adventurers. Biographical information is mixed with quotes from the women and those who knew them as well as notes about other events going on in the world at the time. I found it fascinating to discover that a Russian cosmonaut was the first woman in space in 1963. The first American woman in space, Sally Ride, didn't go up until decades later. Tillie Baldwin created a stir when she wore bloomers instead of a skirt to compete in the rodeo in 1912.
Besides being interesting to read, Rebel in a Dress is a compelling look at how conventions and expectations for women have changed over the years. It seems laughable now to see that women were not allowed to be pilots in the U.S. in the early 1900s, but norms such as this severely affected the lives of women at the time. At a time when girls are mostly told that they can do and be anything they want, it's informative for them to know just how far society has come for that message to get across.
Rebel in a Dress books would make good selections for mother-daughter book clubs with girls aged 8 and older.
Publisher Running Press Kids provided me with a copy of this book for review.
Save