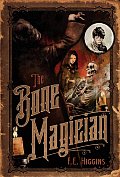 Here's a guest review by author Christina Hamlett.
Title: THE BONE MAGICIAN
Author: F. E. Higgins
Publisher: Feiwel & Friends (2008)
Genre: YA Fantasy
Deodonatus Snoad. Benedict Pantagus. Aluph Buncombe. Rudy Idolice. The gritty city of Urbs Umida has attracted no shortage of characters with odd names. The only things perhaps odder than their monikers are the professions they've chosen to pursue and the motivations that dictate their interactions with others.
At the center of this dark tableau is a young protagonist named Pin, a mortician's apprentice whose unsavory duties include keeping a three-day vigil over the recently departed to ensure that they are, in fact, dead as a doornail before they get buried. On one particular night, however, Pin's views about death are radically altered when he happens to witness the surrealistic machinations of a mysterious older man and his assistant, Juno, who bring a female corpse back to life for a few last words with her grief-stricken fiancé. Plucky Pin is as determined to expose the tricks behind the duo's charade as he is to clear the name of his missing father, a man whom the poison pen of Deodonatus Snoad has labeled as a serial killer.
Subplots featuring a caged and vicious creature called The Gluttonous Beast, a potato-throwing dwarf, and a charming man who believes that the shape of one's skull and the presence of bumps can predict criminal behavior give this fast-paced tale plenty of film adaptation potential.
Teens and tweens who have gravitated to the likes of Harry Potter will easily get caught up in the mystical elements, and Higgins does such an effective job at crafting realistic and compelling ambience that you can practically smell the stench of the River Foedus in which hapless victims draw their last breaths.