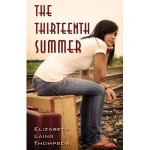 Crystal has never really spent much time with her rock star dad, and now that her mother has to live out of state for a few months while training for a new job, she will get her chance. Rage Waters and the Fellas are on tour, and Crystal is both excited and nervous about joining the chaos of their nomadic life. This is the chance she's waited for to get to know her dad and find out if he really cares for her. Trouble is, threatening notes from a crazed fan may put them both in jeopardy before she finds what she's looking for.
The Thirteenth Summer by Elizabeth Laing Thompson mixes normal teen concerns with the reality of the life of a famous entertainer. Crystal worries about her braces, body odor, frizzy hair and breakouts, particularly when she's around Luke, who is the son of another band member. She also finds out that while Rage's lifestyle comes with perks—fancy hotels, limousine rides and expensive restaurants—it also doesn't leave much time for Crystal to spend one-on-one with her father. Not surprisingly, several major conflicts come up as the two get to know one another and learn how to talk with each other.
Crystal is 13, which means she's between wanting to cling to some of her younger traits and wanting to be more grown up. That brings up some interesting issues, particularly as Crystal gets to know Luke better. The mystery of the crazed fan—dubbed psycho girl by band members—adds another twist to the story.
I thought The Thirteenth Summer was a lot of fun to read and it would provide interesting discussion for girls and their moms to talk about family relationships, finding confidence in yourself, and knowing how to communicate about important issues.
The author provided me with a copy of this book.