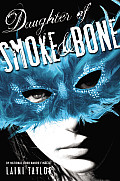 Laini Taylor is a master at weaving tales that include creatures of all kinds, but her stories are solidly grounded in the human experience. Her characters want what many of us want: to know where we come from, to feel love, and to hope for the future. Karou in Daughter of Smoke & Bone is no exception.
For as long as she can remember, Karou has straddled two worlds: the one most humans see where she lives as an art student, and the world of Brimstone's shop where she grew up surrounded by what humans would call monsters. The drawings she creates are the only things that bridge the two worlds the way she does.
Even though Karou's name means hope in her first language, she doesn't know anything about her beginning. She only knows that she was trained to take care of herself, and now that she lives among humans, she often goes on errands to bring Brimstone what he needs to create his magic. When an angel intent on killing her appears, and the doors to Brimstone's shop are destroyed, Karou is suddenly aware of just how little she knows about herself and how to find her way back to those she loved.
Daughter of Smoke and Bone has elements of a Romeo and Juliet tale—lovers who find each other against the odds, families that are sworn enemies, and hope that the rift between the two sides can heal—but that's where similarities end. The world Taylor has created for Karou is mesmerizing, and even the little details like Brimstone's collection of teeth are suffused with meaning. I found myself torn between reading quickly to see what happens, and slowing down to savor the details along the way. Either way this is a book that's likely to totally engross you from the moment you read the first word until you finish the last. I didn't realize there was to be a sequel until I got to the end, but now I happily await the next book. I recommend it for mother-daughter book club with girls aged 15 and up.