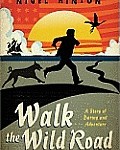 Author Nigel Hinton grew up hearing how his grandfather left his large, poor family from Poland at the age of 11 to seek his way in the world. His book, Walk the Wild Road, fictionalizes the family legend and imagines what could have set a boy off into the world on his own.
Leo's family is desperately poor, and when his mom becomes pregnant with a new baby, all the older children must look for work. But times are hard, and there is not much work to be found. Leo's younger sister finds a place in a tavern, and Leo hears of a job at the manor. But when the landlord's cruel son accuses Leo of a crime that will send him to jail with hardened criminals, he takes to the road instead, hoping to better his life and send money home to his family.
The country was preparing for war with France in 1870, and Leo meets with a suspicious population and hardship on the road. Then he meets Tomasz, who is making his way to America. The two boys journey together, buoying each other up through the hardships they encounter.
Walk the Wild Road is an adventure story with a heart. Leo always wants to do the right thing, but hunger and exposure sometimes compel him to steal food and sneak lodging. He meets people who are kind beyond his expectations, and others who are cruel without reason. He learns that hardship is easier to face in the company of a friend, and he never gives up hope for a better future. Hinton does a nice job transferring this story from family lore to a tale that will resonate with teen boys and girls.
Publisher Sourcebooks provided me with a copy of this book to review.