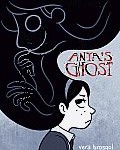 There's a lot to irritate Anya about her life. Her mother cooks fattening food, she's associated with an unpopular boy in school just because they're both Russian immigrants, her close friend is mad at her and she never expects to date the boy she has a crush on. Running away from her problems seems like the best thing to do until she falls down an abandoned well. There she discovers the skeleton of a young woman who died long ago, and her ghost talks to Anya and helps her get out.
Soon Emily's spirit is following Anya to school and staying at her home, and she wants to help her succeed at whatever she tries. But Emily is hiding a secret about her past, and when Anya starts to suspect the truth, Emily's "help" takes a sinister turn.
Anya's Ghost is a graphic novel for young adults written and illustrated by Vera Brosgol. Anya, with all her worries about fitting in, is easy prey for Emily, who longs to have experiences again through a living human. And at first, Emily seems to help Anya get everything she wants: attention from her crush, acceptance from cool kids, and help on tests. Once Anya is part of the world she admires, she begins to see that it's not what she dreamed it was. But getting rid of Emily and getting back to her old life proves to be more challenging than Anya thought it would be. Brosgol's illustrations are stark, reflecting how Anya feels about her life throughout much of the novel.
Girls aged 14 and up will relate to the issues of wanting to fit in, being embarrassed by family members, and wanting easy solutions to complicated problems.
Publisher :01 First Second provided me with a copy of this book to review.
Save