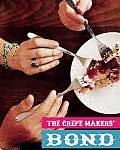 Ariel loves to cook. It helps her forget about the fact that she already has a huge chest that the eighth grade boys love to stare at, and that her family can really embarrass her sometimes. She especially loves to cook for her best friends, Nicki and M, and they can talk about anything that's bothering them as they eat. But when M's mom announces that they're moving from Alameda to Crescent City, California, Ariel knows how important it is for her friend to finish middle school before she leaves. So she cooks up an idea to have Ariel stay at her house until school is over. But will this turn into one more of Ariel's successful concoctions or a recipe for disaster?
The Crepe Makers' Bond by Julie Crabtree is about friendship, cooking, and family dynamics. M thinks the most important things in her life are her friends and school. She's sure that she'll get along fine without her mom for a few months. But she finds that adjusting to life with another family, even if you're very close to them, can be difficult. Ariel also finds that her family acts different with someone new around all the time. She's not sure she appreciates the changes.
I did feel that the ending was a bit rushed, and that Nicki's secret boyfriend and family issues weren't fully explored. However, I also believe that there are so many family dynamics and friendship issues in The Crepe Makers' Bond it will be a good book for mother-daughter book clubs with girls aged 9 to 12 to discuss. Issues covered include older parents, divorced parents, strict parents, body image, having boyfriends against your parents' wishes and more. And since each chapter is followed by what seem to be great recipes, you'll have no shortage of ideas about what food to serve at a meeting.
Publisher Milkweed provided me with a copy of this book to review.