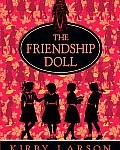 In the 1920s, 58 dolls were sent as ambassadors of friendship from the children of Japan to the children of the United States. About three feet tall, these dolls had human hair and came dressed in kimonos and accompanied by accessories such as tea sets and parasols. The Friendship Doll by Kirby Larson is the fictionalized story of one of them, Miss Kanagawa.
Miss Kanagawa takes her role as an ambassador seriously. Still, she is surprised to find a connection at times with the children she comes into contact with. Bunny feels neglected by her family and schoolmates, and her inclination is to lash out and steal glory for herself. Lois gets the chance of a lifetime when her great aunt offers to take her to the Chicago World's Fair, and she must decide how to spend the precious quarter her dad has given her for the big day. Willie Mae is a mountain girl whose family struggles for food and survival. Yet books buoy her up, and she has a thirst for knowledge. Lucy's father heads west from his ruined farm in Dust Bowl stricken Oklahoma. They face extreme hardship as they search for a new home. Mason is losing his beloved grandmother to Alzheimer's, and he longs for the happier days they spent together.
Each child faces issues having to do with friendship and family struggles. In some way, each has to decide how to do the right thing. Times are hard during the Great Depression, and relationships are the one thing that can be counted on, even if those relationships are strained by outside pressures. Larson portrays the yearning that each character feels beautifully, and the places she chooses for the children to live helps paint a picture of what was happening across the country during the late 1920s, throughout the 1930s, and into the 1940s.
Passages that portray Miss Kanagawa's thoughts didn't work for me as well, but overall I think the The Friendship Doll is a memorable story that will give mother-daughter book clubs with girls aged 8 to 12 a lot to talk about.
The author provided me with a copy of this book to review.