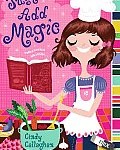 It all starts when Kelly finds an old encyclopedia while she's cleaning out her attic. Except it's not an encyclopedia—it's got handwritten recipes pasted over the pages of the printed book. Kelly loves to cook, and she enlists her two best friends to be part of a cooking club in her family's kitchen. But when the trio decides to mix up recipes from the book, their concoctions lead to consequences both good and bad.
Cooking always has just a little bit of mystery, and Cindy Callaghan's Just Add Magic ramps that mystery up a notch. The girls speculate on who wrote the recipes and how it got in Kelly's attic, and they soon realize that when they use a magic recipe to cause an action, there's an equal reaction in the opposite direction. They have to discover how to stop the process before it gets out of hand. The question is how are they going to do that?
While I felt as though there were a few loose ends that needed resolution at the end of the book, overall I thought it was fun to read. Girls aged 9 to 12 who have an interest in cooking should especially enjoy it. There are great recipes at the back of the book for book clubs (or anyone) to try, and it doesn't seem as though these dishes will cause karmic trouble at all.
Visit www.cindycallaghan.com that features Cindy's blog, recipes, a discussion guide, details about upcoming appearances, her bio, and more.