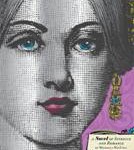 Before Victoria became Queen of England, she was merely Princess Victoria, controlled by her mother, the king's sister-in-law, and a powerful advisor, Sir John Conroy. Victoria lived in near isolation in Kensington Palace, unaware of much news of the times.
Into this world steps the fictional character of Liza, newly hired as a maid to Victoria after her well-to-do parents died and left her penniless. Previously Liza had maids of her own, now she must adjust to being one. She also takes it upon herself to befriend the princess and spy for her, ferreting out the intrigues going on among Victoria's family and advisors.
Prisoners in the Palace: How Princess Victoria Became Queen with the Help of Her Maid, a Reporter, and a Scoundrel by Michaela MacColl is rich, historical fiction. The story shows another side of Victoria, that of a vulnerable girl whose future was anything but certain. If not for her own strength of character she could have become a puppet ruler, controlled by her mother and Sir Conroy. Historical entries from Victoria's diaries are interspersed throughout to reflect her state of mind following well-documented events.
Liza is a strong character and ally for Victoria. Through her eyes we see the London that existed outside of palace life. Life was precarious for many, especially women and children, who had few resources or avenues to improve their lives.
MacColl flawlessly weaves historical details into the story of these two young girls, Victoria and Liza. I don't usually think of historical fiction novels as page-turners, but I had a hard time putting Prisoners in the Palace down once I started reading it. One chapter flows into the next smoothly, and even though readers know that eventually Victoria becomes queen, the story of how she gets there is anything but predictable.
Mother-daughter book clubs can talk about Victoria's difficult relationship with her mother, living conditions for women and children of the times, the rise of broadsheets to communicate news and how that compares to today's media and more. Prisoners in the Palace is classified as young adult, but even 12 year olds who are interested in historical fiction should be happy reading it. I highly recommend it.
You may also want to check out the Prisoners in the Palace Discussion Guide and my interview with author Michaela MacColl.