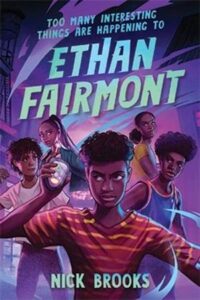 When we last saw young inventor Ethan Fairmont and his friends, they were finishing up a summer of adventure and surprises. They had helped an alien friend, brought people in their neighborhood together, and set up a space where kids could gather to create things.
Now, with school starting again, Ethan faces new challenges, both good and bad. First, he discovers that his alien friend Cheese has left him a device that may help the two communicate. But he can't figure out how to work it. Then, a new girl shows up at his school, and she's an inventor too. With patents! Ethan can't help but feel competitive.
Another new kid snoops around asking questions about aliens in town, and Ethan thinks he may be having deeper feelings for his friend, Di. Add some mysterious goings on to the mix, and Ethan finds lots to stress over and be confused about.
Book 2 of the Ethan Fairmont series: Too Many Interesting Things Are Happening to Ethan Fairmont, by Nick Brooks is a quick, fun read. Young readers aged 9 to 12 will find it easy to relate to Ethan, who at heart is a normal kid facing changes he's not sure how to navigate. As he works to solve the mysteries he faces, he learns that opening up to family and friends can help him solve all kinds of problems
The publisher provided me with a copy of this title in exchange for my honest review.