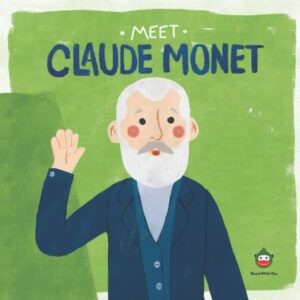 Books that highlight famous people of the past are great for introducing children to all kinds of concepts. Meet Claude Monet, part of the Meet the Artist picture book series, helps budding artists learn how Monet used broad brushstrokes to create the illusion of detail.
The illustrations highlight small pieces of famous paintings on one page and asks young readers if they can figure out what it represents. Then it shows the full picture on the next page.
For instance, one page shows what looks like a blob of color, made up of green and blue and white and pink paint. The character of Claude Monet says it's a sky, and he asks readers to consider why he would paint sky like the that. The next page reveals a foggy scene with buildings outlined against that sky.
Monet asks readers to consider the colors he used and how he could create full figures with just a few brushstrokes. Two paintings at the end ask questions about what's in the scenes, and there are two craft options in the back.
I would have liked to see more information about the artist, perhaps with a bio in the back or more info along the way. Text says when Monet was little his family lived in Normandy, but it doesn't specify that he spent the majority of his life in other parts of France. Also, I felt some of the activities, like identifying different types of brushstrokes on a post-card-sized painting, wouldn't fully engage children.
Overall, though, I found Meet Claude Monet to be an interesting look at the artist and his techniques. And I can see how it would inspire children to experiment with their own art.
The publisher provided me with a copy of this title in exchange for my honest review.