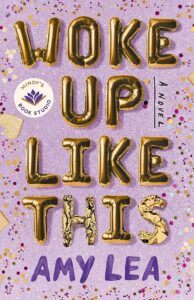 It's the end of her senior year and all that stands in the way of Char meeting all the goals on her checklist is her nemesis, Renner. The two have been at odds ever since he stood her up for homecoming in their freshman year.
With prom just days away, she's determined not to let him ruin the highlight of her last days in high school. Then she falls off a ladder and the two hit the gym floor, propelling them both 13 years into the future, when they are about to be married.
They go on a mission to find out how the years since high school ended up like this, making some surprising discoveries along the way. When a chain of events leads them back to that high school gym floor, Char wonders if it was all a dream, or if her destiny leads to a future she never imagined.
Woke Up Like This by Amy Lea is a fun twist on a story about time travel and confronting the assumptions you make about the people in your life. When Char realizes there's more to Renner and her dad and other friends than she assumed, it makes her rethink her own approach to life.
Woke Up Like This is charming and funny and annoying and touching in all the right places. I recommend it for readers aged 14 and up.
The publisher provided me with a copy of this title in exchange for my honest review.