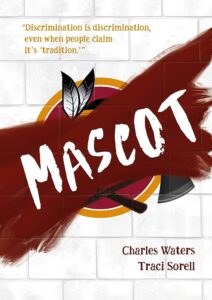 What happens when students of a public school see the sports mascot as racist and others see it as a tradition to be upheld? That's the question asked in the middle grade novel Mascot by Charles Waters and Traci Sorell.
Told in verse from the viewpoint of six eighth-grade students and their teacher in an honors English class, Mascot looks at this often-contentious issue from multiple viewpoints. The students come from different backgrounds, representing communities that are Native American, Black, white, Latino and Indian American. They come from different socio-economic backgrounds. All have strong opinions about the school mascot and what it stands for.
The teacher assigns a research topic on the mascot and what it means to different people, and she pairs students up to argue for or against changing it. Students are assigned a viewpoint, which doesn't necessarily match what they believe.
Reading about their process of discovery is interesting. And while the book leads readers to agree with one side more than the other, it also honestly presents both viewpoints. As the story unfolds, some students change their thinking on the issue, some do not.
Sports teams at all levels grapple with this hot-button issue, and Mascot provides a way for readers aged 10 and up to think critically about it.
The publisher provided me with a copy of this title in exchange for my honest review.