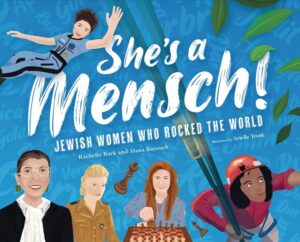 Mensch is a Yiddish word that refers to someone who has integrity, and whom others consider to be good, possibly a role model. Authors Rachelle Burk and Alana Barouch, a mother-daughter team, have highlighted several Jewish women through history who fall into this category in their picture book, She's a Mensch!
The book features highlights and accomplishments from the lives of each woman listed. It also includes pop-outs with a "Fun Fact to Mensch'n" and questions for young readers to reflect upon. For instance, part of the fun fact about Emma Lazarus, the poet who wrote a famous poem about the Statue of Liberty, is that she was a Sephardic Jew whose ancestors came to America before the American Revolution.
Arielle Trenk's illustrations are nicely done portraits of the mensches and what they are known for. Rhyming verse also sprinkles the text. Here's an example:
Jewish women 'round the world have talent, strength, and smarts. They shine like stars in every field from science to the arts.
As young readers read about these women and how they have contributed to society, they also learn about history. Other mensches featured include, Shari Lewis, a beloved puppeteer, Golda Meir, former prime minister of Israel, author Judy Blume, and former U.S. Supreme Court Justice Ruth Bader Ginsberg. The list includes athletes, spies, performers, scientists, and more. The timeline of the lives lived spans from 1883 to 2019.
She's a Mensch! is a great book for anyone wanting to introduce their children to Jewish women's contributions to society during this time period.
The publisher provided me with a copy of this title in exchange for my honest review.