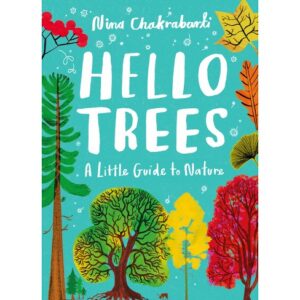 Hello Trees: A Little Guide to Nature by Nina Chakrabarti is a great little book for children about something we see every day but probably don't give much thought to. This small-format pocket guide is handy enough to take out to the park, a stroll in the woods, or just an amble about the neighborhood.
And even though it's small, it's chock full of information that even adults may learn from. For instance, I think I know a lot about trees and how they grow, but I was surprised to find that leaves turn orange because of carotene, which is also found in carrots. And that the tree of heaven smells like rancid peanut butter.
Beautiful illustrations are presented in a way that's almost like a nature journal. They show tree canopies and roots, trunks, and leaves. Readers see comparative heights for different types of trees, and they learn the difference between deciduous and evergreen trees.
There's even suggestions for a few activities, like making leaf prints and bark rubbings. The last page lists ways we can all be friends of trees. Hello Trees is great for little naturalists aged 6 and up.
The publisher provided me with a copy of this title in exchange for my honest review.