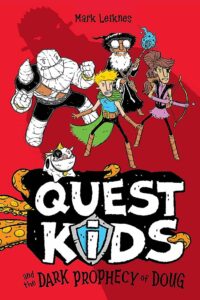 The lovable troupe of adventure seekers from Quest Kids and the Dragon Pants of Gold continue their search for Ned's parents in Quest Kids and the Dark Prophecy of Doug.
Six months after Ned, Terra, Gil, Boulder, and Ash found a creative way to save a village from a dragon, they find a clue from a shapeshifter that someone named Doug may know where to find Ned's missing mom and dad. They follow that clue to a pirate named Helen, who tells them about Doug's dark prophecy and offers to sail them to the Forsaken Lands to find him.
Unfortunately, Helen is better at making jewelry than she is at sailing, so she leads them into misadventures before they reach their destination. When they finally encounter Doug, he's making plans to fulfill his prophecy. Can the Quest Kids work their magic again to save Ned's parents and the rest of the world from his evil plans?
This installment of Quest Kids is just as delightful as the first, with a combination of graphic drawings and written narrative to move the story along. Readers will enjoy finding out more about Ned and his family's background, as well as following the quirks of all the characters.
It ends in a bit of a cliffhanger, with a teaser about more info to come, so fans will have something to look forward to. I recommend Quest Kids and the Dark Prophecy of Doug for readers aged 9 to 12.
The publisher provided me with a copy of this title in exchange for my honest review.