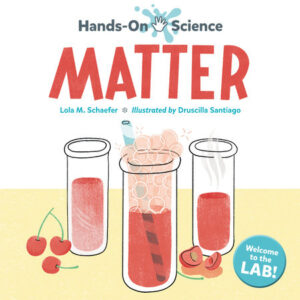 Young children love science, even if they don't know that's what to call their experiments. Hands-On Science: Matter, by Lola M. Schaefer, can help bring the science concept to life with the introduction of a chemistry lab in a way that's easy to understand.
Hands-on refers to the way young readers are expected to handle the book, as well as how experiments are conducted. Readers are told to smash the drawing of clay on the page, squeeze drawings of cherries to get juice, tilt the book to pour the juice, and more. Illustrations by Druscilla Santiago have a muted-tone retro look with pops of color that really catch the eye.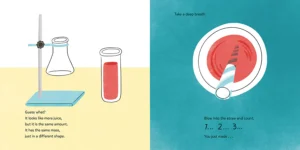 The steps outlining how solids can turn to liquids and then to gas are easy to understand and fun to think about. And it's easy for parents to gather a few ingredients and follow of the steps at home with real cherries. Hands-On Science: Matter is a great combination of fun and educational.