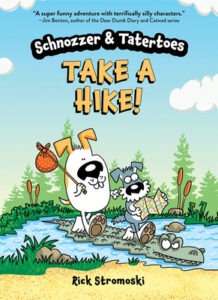 Schnozzer & Tatertoes are two pup buddies who decide to set off on an adventure to find Tatertoes's mother. They know the name of the farm where he was born, and they have a map. But they lose the map and must rely on getting directions from characters they meet along the way.
In Schnozzer & Tatertoes Take A Hike! by Rick Stromoski, those characters happen to be familiar ones from well known fairy tales. There's a wolf and a little girl in a red cloak, two children dropping breadcrumbs, a witch with a cauldron, and more. In each case Stromoski adds a twist to the usual story that will certainly be fun for young readers to discover.
There's also a small mystery. Everyone keeps telling the duo to follow their noses. They don't understand what that means until they arrive at their destination in Buzzard's Breath. It's all lots of fun in a graphic novel form. I recommend this adventure for readers aged 6 to 10.
The publisher provided me with a copy of this title in exchange for my honest review.