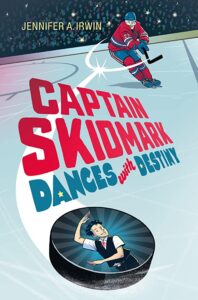 Thirteen-year-old Will knows that no matter how bad the bullies treat him he will keep quiet when they trip him in the hall or steal his lunch or shove him into a locker. He's small and knows he can't fight back. Also, as the school principal's son, he knows that getting the bullies in trouble with his dad will probably just make them madder.
When his older cousin Alex comes to stay with his family, Will initially hopes he may find an ally. But as a popular hockey star, Alex has no time for his pipsqueak relative. When Will happens to enroll in a ballroom dance class and finds he's good at it, he's conflicted. Should he continue and risk more bullying because dancing isn't "manly," or should he go all out for something that makes him feel good about himself?
Captain Skidmark Dances With Destiny by Jennifer A. Irwin is a humorous and thoughtful coming of age story. Will wants to please people, especially his dad, who used to be a pro hockey player. He feels his dad is disappointed in his own lack of athletic ability. So he hides his interest in dance until he's forced to admit he's taking lessons.
Will forms a bond his cousin when he discovers that Alex isn't happy playing his role, either. They encourage each other to push back against their parents' expectations. But following through is harder than they anticipate.
Throughout his trials, Will maintains his sense of humor about himself and his increasingly difficult situation even as he tries to find a solution. In the end, readers will cheer for Will and Alex as they forge a path that will lead them to be true to themselves.
Captain Skidmark is funny and thoughtful and I recommend it for readers aged 10 to 13.
The publisher provided me with a copy of this title in exchange for my honest review.