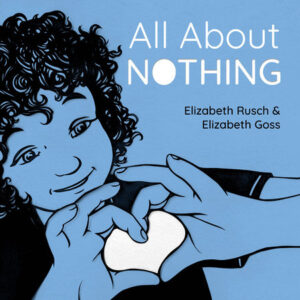 It's easy to think that nothing is a thing that doesn't exist. But in their picture book, All About Nothing, Elizabeth Rusch & Elizabeth Goss set about to get children and their parents thinking about the emptiness, gaps, pauses, and more, that fill our lives.
Nothing, they say is the space around everything, including words, which makes it easier to read. Nothing gets your attention, when you notice something is missing, like a tooth. Nothing, they propose, even makes music, because even songs need some silence.
The simple story is illustrated beautifully, helping to show that the lack of something makes up a large part of our lives. It's an interesting concept that should be fun for parents and children to explore as they think of even more examples of nothing in their lives. Also, there's a fun craft project at the back of the book that involves cutting paper to show how negative space creates art. All About Nothing offers an interesting read on what most of us give little thought to. I highly recommend it.
The publisher provided me with a copy of this title in exchange for my honest review.