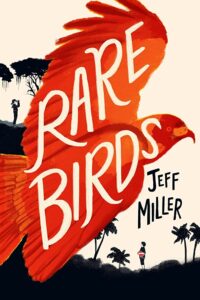 Rare Birds by Jeff Miller tells the story of eleven-year-old Graham, whose mom is on a waiting list at a Florida medical center for a heart transplant. Graham is staying with an old high school friend of his parents, Dom, and Dom's son Nick, who does his best to make Graham's life difficult.
Graham is a veteran of hospital waiting rooms, and it's there he meets Lou, who has family medical issues of her own. The two become fast friends, and together they decide to enter a contest for young birders to find the rare snail kite that lives in the nearby swamp.
During their adventures, they learn a lot about boating, birding, and the nature of the swamp. They will test their courage and determination while they also discover the value of friendship and the importance of living life to its fullest.
Rare Birds is about hope and self-discovery, and being understood and loved for who you are. As Graham gets to know Nick and Lou, he finds that initial impressions of a person are not the whole story. He also faces his own fears about being on his own if something happens to his mom. It's a thought-provoking tale, and I highly recommend it for readers aged 9 to 12.
The publisher provided me with a copy of this title in exchange for my honest review.