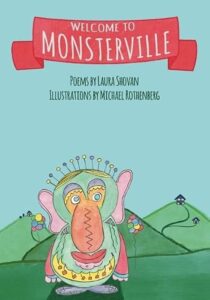 The book Welcome to Monsterville starts with a poem called Invitation. It reads, in part:
Hello, children!
Please don't hide.
The gate is open.
Come inside.
We're glad you're here
in Monsterville.
Our tour today
is creature-filled.
Indeed, this collection of sixteen illustrated poems for children is creature-filled and wholly delightful. Born out of grief and a desire to create something uplifting, the author Laura Shovan, and the illustrator, Michael Rothenberg, worked together to create quirky characters that often reflect difficult emotions or situations children navigate.
For example, the poem When I Cry opens with the line, "There is a monster in me called Sadness." And Green Cave starts with, "Sometimes I get so mad, the feelings can't stay inside."
Pairing these poems about serious emotions with colorful, wacky illustrations of monsters seem like a great way to open up conversation about intense feelings and how to deal with them. I can see readers finding new meaning in these poems over multiple readings as situations come up in their lives that make them relevant.
The publisher provided me with a copy of this title in exchange for my honest review.