Today I'm taking part in a WOW! Women on Writing blog tour for Melanie Faith's From Promising to Published. This book for aspiring and beginning writers is sure to provide a dose of inspiration along with its practical advice. Read on for my review and then more info about the author.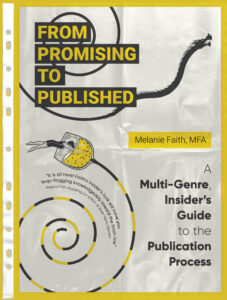 Writers looking for inspiration about how to get their work into the hands of people who can publish it will find it in Melanie Faith's guidebook, From Promising to Published: A Multi-Genre, Insider's Guide to the Publication Process.
Faith's straightforward writing style makes the book feel like you are getting advice from a trusted friend. The book is divided into four sections, making it easy to navigate ahead or go back for a quick review of something already covered. The sections include how to start out as a writer, how to find the right audience and market for your work, getting paid and celebrating your successes large and small, and thriving long-term as a writer.
Faith pulls from her myriad of experiences as a poet, photographer, prose writer, professor, editor, and tutor to give bits of information and encouragement for any kind of writing. Most chapters conclude with a helpful exercise so readers quickly can put the advice into practice.
From Promising to Published is an inspiring guide that writers will want to keep at hand as they continue to grow in their craft.
The author provided me with a copy of this title in exchange for my honest review.
About the Author
Melanie Faith is a night-owl writer and editor who moves through the daytime world with her camera. She's an introvert who likes to wear many hats, too, including as a poet, photographer, professor, and tutor. She's been a doodler for years but just recently started to share her perfectly imperfect doodles. She loves to write about historical settings in poetry and prose, and this fall she taught both a Leaping Worlds class for historical fiction and time-travel writers as well as a university class about publishing. She especially enjoys creating nonfiction craft books that assist fellow authors on their writing paths, including books packed with tips about writing flash fiction and poetry. Her latest published craft books are: Photography for Writers, guides for teaching online and writing a research book respectively, and From Promising to Published: A Multi-Genre, Insider's Guide to the Publication Process (all from Vine Leaves Press). Read more about her books, classes, and arts projects at https://melaniedfaith.com.