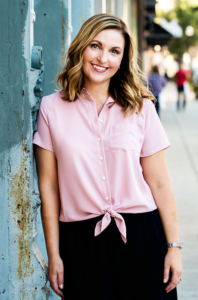 Sara Bennett Wealer's Grave Things Like Love is set in a funeral home in an old mansion rumored to be haunted. But the issues it covers are very much part of living: friendship, taking risks, figuring out who you really are even when that goes against family expectations.
Here, the author answers questions about the book and what's up next for her.
Are parts of "Grave Things Like Love" drawn from your own experiences?
Music plays a big role in the story, and that's definitely a big part of my personal experience. Elaine plays piano for funerals and accompanies her friends in the school choir. As someone who grew up singing in church, school choirs and community musicals, I know the joy that can bring—and also the pressure! Elaine's friends are getting ready to audition for the school musical and for college music programs, which brings back very specific memories for me.
The Midwestern, small-town setting is another aspect of life I know well. I grew up in a small college town in Kansas, so my childhood wasn't as rural as Elaine's, but my parents and much of my extended family are from just the kind of town that Elaine hails from. Dodson, Illinois, feels very familiar to me, and I hope it will to others who know a place like that.
What inspired you to add a supernatural element to your latest novels?
I enjoy stories that have a little "something something" extra in them—an element that isn't full-blown paranormal or fantasy but that is still a little "out there" without being the sole focus of the story. When I sprinkle those elements into my own writing, I purposefully try not to explain too much about what is happening and why. That's because I like the idea that the strange can be a part of everyday life. Sometimes things just are, even if we don't understand them.
What do you want young readers to take away from "Grave Things Like Love"?
It's very easy to think we have to have everything figured out by a certain point in our lives—especially when we have family traditions and expectations weighing in. That kind of stress is understandable and natural, but I want to show that there's a bigger picture, and it's OK to take a little time, explore the broader world, and not have it all set in stone according to someone else's timeline.
While we're talking about the big picture I think that applies to death as well. I wanted to show that, while it's a huge mystery and something most people fear on some level, it's also a part of everyday life. Elaine's dad talks about "the juxtaposition of the Universe," which he defines as joy in the face of pain. "Grave Things Like Love" has a decent amount of the comic and absurd, even as it takes place in a funeral home. I like that we can hold joy, pain and more within ourselves, all at the same time. To me, that's a big part of what makes us human.
Why was it important to you to write a main character with anxiety? What do you hope your readers will learn from Elaine?
Anxiety (along with its often-BFF depression) has always been part of my life. I live with it, as do several members of my immediate family. And when I look into the past, I can clearly see older family members who experienced it at a time when society wasn't as open or accepting about mental health issues, which led to a lot of pain and dysfunction that could possibly have been lessened with proper treatment.
I'm fortunate that my anxiety is something I can manage with strategies like exercise, mindfulness, proper nutrition, and medication from time to time. I know others for whom anxiety is a much more disruptive part of their lives. For all of us, though, it's something we do have to live with, and that's what I wanted to portray in this book. The way Elaine experiences and deals with anxiety is reflective of how I experience and deal with it, and that was something my editors liked—that anxiety is simply a part of her life and not the sole focus of her story.
What is next for you in your writing career?
I have a dream to write a puzzle box story inspired by my favorite sci-fi series, "Dark," on Netflix. (I'm on a personal mission to get more people to experience this show! Watch it now! It is so so SOOO good!!!) I'm not sure I can pull it off—I'm working up my courage to get started. In the meantime, I'm dusting off some older projects, re-imagining them and, I hope, transforming them into something that will sell. These are stories that have stuck with me, and as my writing has evolved and improved, I'm finding that I'm able to take them to a level I might not have been able to back when I did those initial drafts. I'm also getting an itch to try short stories. All of this is a long way of saying I'm in the mood to experiment and evolve!