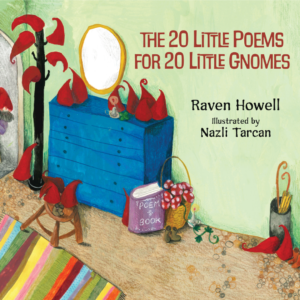 Today I'm taking part in the Wow! Women on Writing blog tour for Raven Howell's newest book of poetry for children. I'm featuring a review now, and on January 10 Howell will have a guest post with ideas for an arts and crafts project to make fun gnomes for all ages. Check back then to see what she has to say. My review is below, followed by more info on other stops on the blog tour if you want to check out more.
My review: Poems for children have the special ability to spark a love of poetry in little ones while also encouraging shared time reading with parents and other adults. Raven Howell's book, The 20 Little Poems For 20 Little Gnomes is a great example of a picture book of small poems that will warm the hearts of both children and adults.
Illustrations by Nazli Tarcan enhance the approachability of the words that are sometimes whimsical, sometimes wistful, and always expressive of some emotion or experience. For instance, the poem titled "Sadness" reads, in part:
If you've caught
the sadness bug,
I'll wipe your tear
and give a hug.
We'll pluck a daisy for the vase,
coax out smile lines
on your face.
Other poems are odes to nature, the seasons, cats, and more. The 20 Little Poems For 20 Little Gnomes is a book you'll want to curl up with in a favorite spot and read time and again. I recommend it for all the little gnomes in your life.