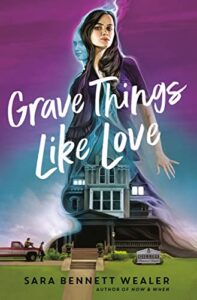 Elaine is tired of being the responsible one, the one her parents call on to help out with their funeral home business whenever they need an extra hand. They even expect her to cancel other plans she has with her friends, something that doesn't go over so well when others count on her. But when Xander arrives in town, she can't stop thinking about his big brown eyes and sandy hair. And when those eyes are turned on her, she suddenly doesn't want to be the responsible one, always at the beck and call of her parents, anymore.
Grave Things Like Love by Sara Bennett Wealer may take place in an unusual setting, a funeral home in an old mansion rumored to be haunted, but the issues it deals with are familiar to many teens. How do you balance being a good friend and meet the expectations of your parents at the same time? How do you find the path you want to pursue after high school when others are pushing you in a certain direction? When do you take risks to figure out who and what are important to you?
With Xander, a paranormal investigator, Elaine finds herself agreeing to things she never would have before. When that inevitably leads to trouble at home, she has to decide how to push past her comfort zone and assert her true feelings without sacrificing what and whom she truly loves.
I recommend Grave Things Like Love for mother-daughter book clubs and any reader aged 14 and up.
The author provided me with a copy of this title in exchange for my honest review.