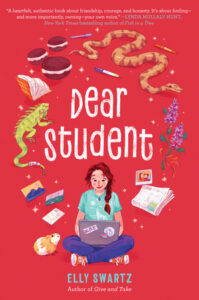 Dear Student by Elly Swartz opens on Autumn's first day of sixth grade. Even though her dad has left their home for a two-year stint in the Peace Corps, he still offers her a suggestion: get involved in one thing. Autumn believes that one thing may be Dear Student, the advice column of their school newspaper. She's always been told she gives good advice. And since the author is anonymous, she won't have to worry about kids thinking what she says is weird.
But Autumn also has a lot to worry about. Her best friend moved across the country over the summer, and to save money, the family left their home for an apartment above her mom's veterinarian business.
If that upheaval isn't enough, she's navigating how to be friends with two new kids who don't get along with each other. She wants to help them both, but figuring out how to do that while remaining true to herself is complicated. In the end, Autumn realizes that even if she can't solve everyone's problems, she can be honest and authentic about her own feelings.
Young readers will cheer for Autumn as she works to find her voice and gain confidence in herself. I recommend Dear Student for readers aged 9 to 12.
The publisher provided me with a copy of this title in exchange for my honest review.