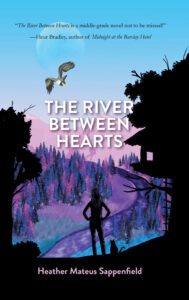 The River Between Hearts by Heather Mateus Sappenfield starts on the first day of summer after fourth grade, when Rill Kruse follows her cat Clifford into the woods and to the family tree house. The one her dad helped build and the family was happy in. But then her dad left to go kayaking just over a year ago and didn't come back. Rill hasn't been to Fort Kruse, as they call it, since. But when she climbs the ladder this time and opens the trap door, she finds a girl inside.
Rill recognizes Perla from school, remembers her being bullied. Slowly, as she earns the girl's trust, she finds out that Perla's family has been taken into custody by immigration agents and Perla has nowhere to go. Rill decides to bring her food and let her stay in the tree house out of sight.
As the two become friends, Rill discovers more about the families who come from Mexico to work in her town than she ever knew. She also is finally able to face the truth about what happened to her dad and find a way to move forward despite her grief.
Rill's story is moving and thoughtful, touching on issues of loss, family, friendship, and more. I highly recommend it for readers aged 9 to 12.
The publisher provided me with a copy of this title in exchange for my honest review.