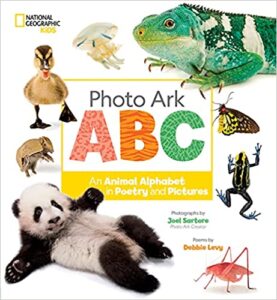 The stunning photographs of animals are paired with verse that just itches to be spoken. Also, the words are different sizes, shapes and colors that move across the page flowing around and between, over and under photographs. For instance, on the page R is for Rhinoceros, the words splish, splash, splat, splurt are arranged to look like a wave that moves up and down.
Alphabet picture books are perennially popular for a reason: They make good read alouds for parents and their children. A great addition to the category is a new book by photographer Joel Sartore and writer Debbie Levy called Photo Ark ABC: An Animal Alphabet in Poetry and Pictures.
Visually, each page has a lot to look at and quite a bit to learn. The poetic devices used throughout make the rhythm of the reading fun. And the facts go down easy, too. Kids will be exposed to animals they've never heard of and words that are new to them. (And maybe even to some that are new to parents. For instance, a group of animals referred to as Xenarthra, was a new one for me!)
The end of the book features small photos of all the animals along with their names and where the can be found in the world. There are also notes from the photographer and the author along with an explanation of The National Geographic Photo Ark, which is an effort by Sartore to photograph every captive species to inspire people to save those most vulnerable.
Photo Ark ABC is deserves a long-term spot on the bookshelf, where it can be easily accessed for reading again and again and again.
The publisher provided me with a copy of this title in exchange for my honest review.