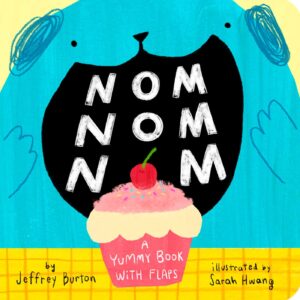 Nom Nom Nom: A Yummy Book With Flaps by Jeffrey Burton is a whimsical little board book that poses questions to kids about what certain animals may like to eat. The choices are often funny, and it can prompt kids to talk about what they do and don't like to eat. Here's an example from the book:
"Little Shark has an empty stomach. What does he want to eat? Fish sticks with ketchup, or pizza and tacos, or cheese-covered jellyfish spicy baked nachos? Which would you choose?"
Each two-page spread features a different animal with foods on one page and a pull-up flap illustration of the animal on the other page. Inside the animal's mouth are the words Nom Nom Nom. The repetition is attention-getting, and the words can prompt fun conversations about all kinds of foods and eating.
Illustrations by Sarah Hwang are colorful and cute.
The author provided me with a copy of this title in exchange for my honest review.