Puzzle Odyssey, An Epic Maze Adventure by Helen Friel & Ian Friel introduces young readers to Homer's classic tale of Odysseus's long journey home after the Trojan War.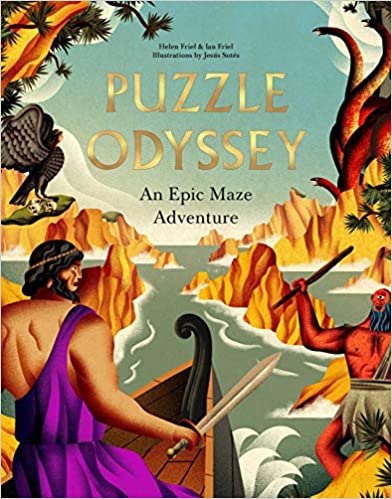 The authors provide a synopsis of the story, told a few adventures at a time. Then readers are faced with several mazes and puzzles that challenge their skills of observation while illustrating something from the tale.
For instance, following the section titled, "Story Part I: Lotus, Sheep, and Cannibals," that describes Odysseus's encouters with the Lotus Eaters, readers are asked to navigate a field filled with flowers. Instructions tell them which way they can move through the field while avoiding lotus flowers to get back to the ship. Illustrations from Jesús Sotés are beautifully drawn, and part of the appeal of going through the challenges.
A cast of characters at the beginning helps keep the story flowing. Also, a note at the end talks about Homer and what historians believe about him and his books, the Iliad and the Odyssey.
Puzzle Odyssey is a great way to get kids interested in the historical books and have fun while they learn. I recommend it for ages 9 to 13.
The publisher provided me with a copy of this title in exchange for my honest review.