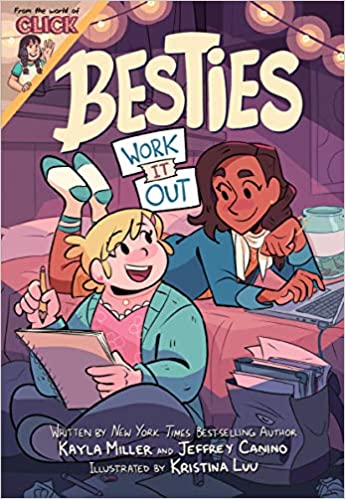 Beth and Chandra are best friends who set up a lemonade stand to make money. Beth wants to buy her mom a special treat for her birthday, and Chandra hopes to adopt a cat from the local shelter. When the costs outweigh what they make, they turn to plan B, dog sitting. But a series of events threatens to not only erase the money they earn, but put them in the doghouse with their best client.
Besties Work It Out, written by Kayla Miller and Jeffrey Canino, is a graphic novel that follows two girls who are willing to work hard to earn what they want, but they have to figure out how to handle challenges they meet along the way. It's a cute story that shows the girls' good intentions, the mistakes they make, and how they set things right. Illustrations by Kristina Luu are colorful and fun.
I recommend Besties Work It Out for readers aged 8 to 12. The publisher provided me with a copy of this title in exchange for my honest review.