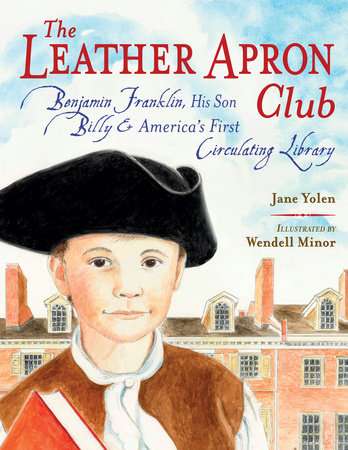 Benjamin Franklin started the first successful lending library in the United States when he established the Leather Apron Club in Philadelphia in 1727. Best-selling author Jane Yolen writes about this especially for young readers in a picture book called The Leather Apron Club: Benjamin Franklin, His Son Billy & America's First Circulating Library.
Beautifully illustrated by Wendell Minor, The Leather Apron Club tells the story through Billy's eyes. And Billy is a reluctant learner. He's not at all excited when his father hires a tutor for him and his cousin James. But where James continues to be more interested in outdoor adventures than in learning, Billy becomes entranced when his tutor reads to him. Pretty soon Billy's Pappy, as he calls his father, is inviting him to come along to a quiet place with lots of books to read where others meet. It's called the Leather Apron Club.
The book weaves in facts about Benjamin and Billy while keeping the story interesting for young readers. Some of Franklin's more famous sayings, like, "he that lies down with dogs will rise up with fleas," and "diligence is the mother of good luck," can be found in the pages.
The back of the book includes more information about the life of William Franklin, the Leather Apron Club, Benjamin Franklin's views on slavery, and Poor Richard's Almanac.
The publisher provided me with a copy of this title in exchange for my honest review.