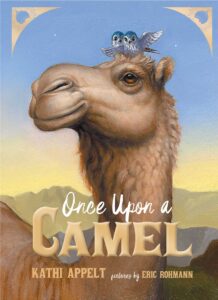 Zada has seen adventure in her long life, racing as one of the Pasha of Smyrna's elite camels, trekking across the American southwest for the US Army, and facing down a mob of mustangs bent on trampling a cougar pup. But now she's content to leave her adventures behind and rest in the West Texas desert with a kestrel family for company. That all changes when a massive dust storm as big as a mountain, a haboob, begins to blow on her little home. Can she muster one more trip to save some chicks and reunite with her friends?
Once Upon a Camel by Kathi Appelt is a delightful tale of friendship, love, devotion, and hope. Appelt is a master storyteller, seamlessly weaving in facts about camels, the desert, Smyrna, kestrels, historical info, and more into the tender narrative.
At the center of it all is sweet Zada, a camel who shelters two kestrel chicks in the scruff of fur on top of her head during the storm and works to get them safely to the mission after it ends. To keep the birds calm while they wait to reunite with their parents, she tells them stories of her life with her best friend Asiye in Smyrna and beyond.
I loved reading about Zada and her stories, and I was sad to leave her world behind when I finished the book. The author notes that she named her storytelling camel after the most famous storyteller of all time, Scheherazade, and Once Upon a Camel enchants as well as any Arabian Nights tale. I highly recommend it for readers aged 8 and up.
The author provided me with a copy of this title in exchange for my honest review.