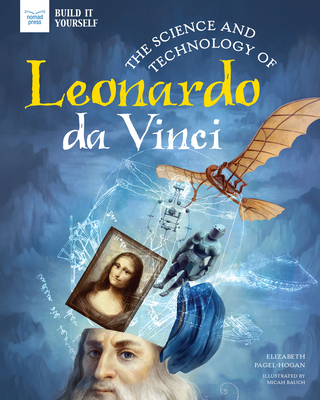 Many people know that Leonardo da Vinci painted The Last Supper as a mural in Milan. Or they know of his famous portrait, The Mona Lisa. They may even know about some of his ideas to invent machines long before they became reality, like a contraption that would let man fly.
Yet they may not be aware that he developed plans for an armored tank that could be used in battle or invented a musical instrument. Leonardo had a mind that constantly questioned the way things had always been done, and he looked at challenges with a creative mindset. He also studied problems thoroughly before coming up with solutions that used both math and science.
Young readers can learn more about this fascinating man in The Science and Technology of Leonardo da Vinci by Elizabeth Pagel-Hogan. Part of the Build It Yourself series, the book starts with an introduction to the man and the times he lived in before delving into the areas where he excelled: Art, Civil Engineering, Anatomy, Mathematics, Astronomy and Flight. Each section is chock full of facts, words to know, and concepts that da Vinci delved into. Sections conclude with ideas for hands-on experimentation and involvement, with projects that range from simple to complicated, usually with objects easily found around the house.
For instance, to draw a vanishing point all readers need is paper, a pencil and a ruler. To mimic the way a human joint works, supplies include card stock, string, and pasta tubes. There are lots of fun concepts that should appeal to young readers who like to experiment and see how things work. I recommend The Science and Technology of Leonardo da Vinci for readers aged 12 and up.
The publisher provided me with a copy of this title in exchange for my honest review.