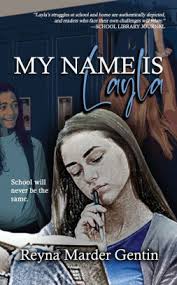 Layla dreads starting 8th grade, another year, she assumes, of mediocre grades and the feeling of just getting by. Life at home has difficult moments too: her dad's been gone since she was a baby, her mother juggles single-parenting with night-shift work at the hospital, and her older brother spends a lot of time gaming. But 8th grade is destined to be a time of big changes for Layla, a time when she will be challenged in her school and home life in ways she never could have imagined.
My Name Is Layla by Reyna Marder Gentin delves into several important issues faced by many teens and pre-teens: learning disabilities (both diagnosed and undiagnosed), friendship, honesty, integrity, economic stress, divorced parents, and more. Layla keeps a lot to herself, and she makes quite a few mistakes, but with the guidance of a helpful teacher and the love and friendship of those closest to her, she finds a way forward.
I recommend My Name Is Layla for readers aged 9 to 12. Read on for more information about the author.
The publisher provided me with a copy of this title in exchange for my honest review.
Reyna Marder Gentin lives with her husband and children in Westchester County, New York. Reyna's first novel, Unreasonable Doubts, a romantic legal thriller inspired by her work as a public defender, was a finalist in the Women's Fiction Writers Association Star Award for debut fiction. Reyna studies at The Writing Institute at Sarah Lawrence College and her short stories and personal essays have been published widely online and in print. Find out more at reynamardengentin.com.
Here, the author answers a few questions:
What inspired you to write My Name is Layla?
I've taken numerous writing classes at Sarah Lawrence College, and in each one I have been inspired to write in a different genre. In 2017, I took a workshop on writing for children and I wrote My Name Is Layla during the course of that workshop. I was excited to experiment with writing for a different age group and to develop a voice that would speak powerfully to kids.
What advice do you have for children with learning disabilities?
I think the most important advice is not to give up on yourself; many children will have challenges, either mild or severe, over the course of their school years. And many of the learning issues can be improved, but it's critical to remain positive and demand the attention that you need from those in a position to help. In my book, Layla learns to trust her teacher, Mr. McCarthy, and lets him help her achieve more. She also relies on her family and friends so that she's not alone.
What advice do you have for aspiring writers?
Don't be afraid to try! I went into writing after a long career in the law. I didn't have any preconceived notions of what I wanted to write, and I had no knowledge of the process of writing a novel or of publishing and promoting one. But what I did have was discipline, a supportive family and writing community, and the desire to tell a story to the world.