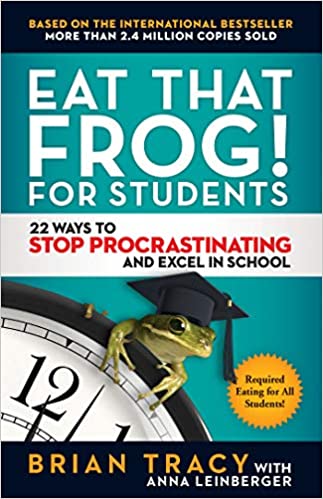 High school and college students today have a lot to juggle as they work to succeed in school and set the tone for success in life. With so many demands on their time, it may be difficult for them to figure out how to efficiently and effectively get the most important things done in a timely manner. That's where Eat That Frog! For Students: 22 Ways to Stop Procrastinating and Excel in School can help.
Eat that Frog! starts with a note from author Brian Tracy about why he wrote the book, how he came up with his advice (hint: culled from years of trial and error to learn what techniques are most effective), and information on how to best access the suggestions. Each chapter is precise and easy to digest and ends with a summary of the most important points.
I won't give away exactly how Tracy defines the frog to be eaten, or even what he describes as eating the ugliest frog, but I will say that his methods are practical and easy to put into practice in a way that can significantly impact young adults if they are serious about taking the advice. The tips and ideas are also useful for parents, who may want to read it along with their teen and then apply the suggestions to their own work and personal lives.
Eat That Frog! can be a guide to a more productive life in general, which can lead to achieving more of what anyone, teen or adult, wants to achieve. I recommend it for ages 14 and up.
The publisher provided me with a copy of this title in exchange for my honest review.