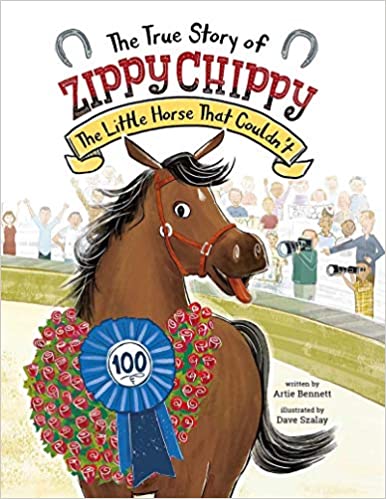 Zippy Chippy was a racehorse descended from other famous racehorses. But one thing set him apart from any other thoroughbred destined to run around the tracks: he lost every race he ran in. You may wonder why a horse like that would be of interest, but author Artie Bennett turns this losing story into a winning children's picture book with lessons about perseverance and participating in a sport because of the love of doing it, win or lose.
If the reaction in my household is any indication, parents and children both will fall in love with The True Story of Zippy Chippy: The Little Horse That Couldn't. Zippy Chippy had a cantankerous personality, sometimes standing still at the starter gate, sometimes stopping in the middle of the track, sometimes grabbing hats off people's heads and chewing them. But his owner Felix kept racing him, and pretty soon Zippy Chippy became famous for his losses and his antics.
This line from the book sums up the positive message to take away: "It takes guts to compete—win, lose, or draw. And it takes courage to dream. Zippy showed us that you can lose and lose and lose and still be a winner." An author's note at the end tells Zippy's whole story.
This is a feel-good book with illustrations by Dave Szalay that will make you laugh and smile and a story that will have you cheering along the way.
The publisher provided me with a copy of this title in exchange for my honest review.