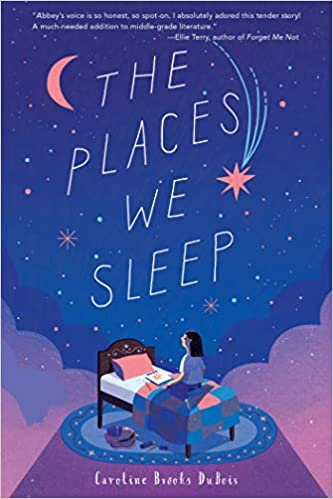 Twelve-year-old Abbey thinks the worst thing about starting seventh grade is being the new girl (again) when her dad is stationed at an Army base in Tennessee. But then planes fly into the World Trade Center in New York and her aunt is missing. Then she gets her period and has to navigate bullies at school. With her mom away and her dad looking at deployment, Abbey has to find her own way in a world where nothing is familiar.
The Places We Sleep by Caroline Brooks DuBois is a coming-of-age story about a girl trying to find her voice. After moving so many times in her life, Abbey wants to do nothing more than blend in. She lacks confidence in her abilities, so she is uncomfortable with compliments about the things she is good at, like art. She wants to stand up for her friends when they are targeted by bullies, but she doesn't want the bullies to focus on her. Abbey's parents were the most consistent people in her life, but with them absent for different reasons and to different degrees, she's not sure where to turn for help.
Abbey's journey is poignant and meaningful, particularly as it is set in both an uncertain time in life and in history. I recommend The Places We Sleep for readers aged 9 to 12.
The publisher provided me with a copy of this title in exchange for my honest review.