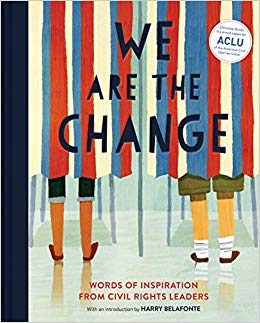 We Are the Change: Words of Inspiration from Civil Rights Leaders takes an innovative approach to introducing young readers to important figures in the fight for civil rights. Sixteen award-winning children's book artists chose quotes from activists who fought for the rights of minorities, women, farm workers, and others from the past and present. This diverse group of activists included Helen Keller, Maya Angelou, Frederick Douglass, Eleanor Roosevelt, Dolores Huerta, Khalil Gibran, and more. The artists then let the quotes inspire an illustration.
For instance, Molly Idle, creator of Flora and the Flamingo and other books, illustrated this quote from Eleanor Roosevelt: "Where, after all, do universal human rights begin? In small places, close to home—so close and so small that they cannot be seen on any map of the world." Her art shows a group of children roasting marshmallows over a campfire.
Emily Hughes, who grew up in Hilo, Hawaii, illustrated this quote from Queen Lili'uokalani: "You must remember never to cease to act because you fear you may fail," with an image of a child weaving a mat surrounded by lush tropical plants.
Along with the illustrations, the artists also talk about what the quotes mean to them. This integrative approach can inspire young readers to think about their own reactions to the words and images. Biographies of the artists in the back, along with the books they've written and/or illustrated, can lead to further reading.
The publisher provided me with a copy of this title in exchange for my honest review.