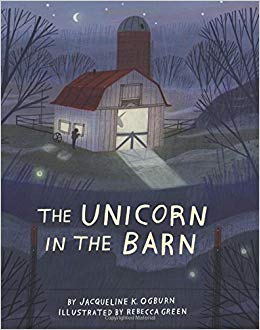 When Eric's grandma leaves her home for an assisted living facility, her house next door to his is sold to a veterinarian, who turns it into a clinic. Dr. Brancusi hires Eric to help out cleaning stalls and caring for the animals. His employment, though, means he has to keep a secret: along with dogs, cats and other pets, Dr. Brancusi treats all sorts of magical animals. There's a Cheshire cat, a goose that lays golden eggs, and a squonk. But Eric's favorite is the unicorn, Moonpearl, and he'll do anything to keep her safe.
The Unicorn in the Barn by Jacqueline K. Ogburn is a sweet story about a boy experiencing a tough time in his family life who finds comfort in caring for animals, both magical and ordinary. Eric finds that though his jobs are sometimes messy and smelly, feeling connection with those who need his care is worth the work. As he goes along he also earns the trust of the veterinarian's lonely daughter, Allegra, and forges a deeper bond with his grandma.
The tale unfolds gently, with Eric and Allegra both experiencing challenges, losses, and triumphs. It's a story sure to appeal to sensitive readers and those who like stories about animals and magical beings. I highly recommend it for ages 8 to 12.
The publisher provided me with a copy of this title in exchange for my honest review.