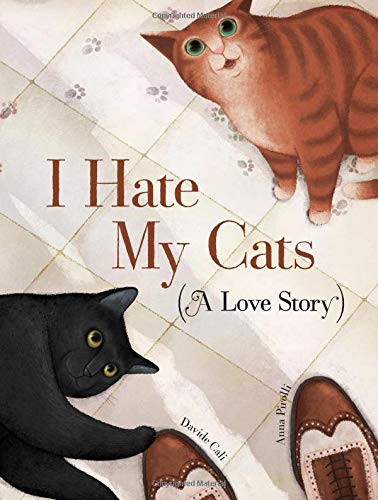 I Hate My Cats (A Love Story) by Davide Cali and Anna Pirolli is a great picture book for anyone who has a cat or cats and loves them despite the trouble they may get into. The two cats in the story, Ginger and Fred, create mischief of various types, including leaving black fur on white towels, knocking vases off tables, and dripping water on the floor. Sometimes they cause a ruckus just to get their owner's attention. But no matter how frustrated their owner gets at the havoc they cause, all is forgiven by the end of the day.
Anna Pirolli's illustrations reveal Ginger and Fred's personalities, with subtle expression changes to show the cats being at times playful, content, and fearful. Parents and children will fall in love with these two characters as they relate to the animals in their own lives.
The publisher provided me with a copy of this book in exchange for my honest review.