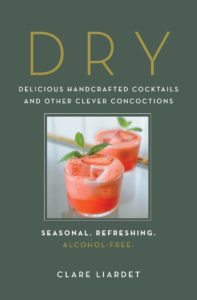 I enjoy a good cocktail. But sometimes I love to get the fruity, fizzy, refreshing experience I like without having alcohol. I know plenty of other people who feel the same, and that's why I was excited to get a copy of Dry: Delicious Handcrafted Cocktails and Other Clever Concoctions by Clare Liardet. The subhead of the book lets you know what you're in for: "Seasonal. Refreshing. Alcohol-Free." Sometimes that's just what I need.
I really like that the book starts out with a list of equipment necessary to make the recipes as well as a depiction of types of cocktail glasses. I have to admit that while I have indulged in cocktails all my adult life, I never have been sure of the names of some of the glasses they're served in. Highball, tumbler, flute…the illustrations make it easy to know what you're pouring into and sipping from.
There's also a list of ingredients that go into the cocktail recipes, which includes flowers, spices, fruit, sugar, herbs and more. It's easy to stock the pantry and spice rack with many of the ingredients, which means you can whip up something on a whim without worrying about going to the store.
With the intro complete, Dry launches into recipes under categories such as, Friday Nights, Lazy Sundays, Long Summers and Fireside Glow. That makes it simple to find things to fit your mood and the time of year. But truly it's fun just to thumb through the collection and find something that suits your fancy and make it on the spur of the moment. One of my favorites was the Fiery Ginger and Apple Boost. Like the author, I love ginger beer but not necessarily the calories that come in the drink. This recipe gives that fizzy tang without so much sugar.
I also like the author's comments that go with each recipe, letting readers know at a glance if something is healthy, flavorful, can be adapted, or is inspiring. I found Dry to be a handy-sized book that's easy to use at home or take on vacation. I expect to use it often for years to come.
The publisher provided me with a copy of this book in exchange for my honest review.